NATE Certification and HVAC Credentials
Jeff, Brad, and Bernie Von Ruden are brothers who own and operate Air Quality Services, Inc.. For over 10 years, we have combined our individual knowledge and talents to bring our customers the best air comfort services and products.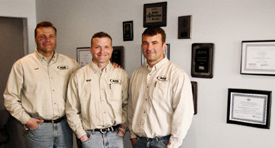 AQS ensures quality installations and service for your HVAC equipment and supports these efforts through NATE Certification.
Brad earned NATE Certification in sheet metal design and installation. He leads our remodel, replacement, and new construction teams for all residential and commercial applications.
Bernie earned NATE Certification with a specialization in Service. Bernie's expertise in mechanical operation provides excellent leadership for our Service team, which helps keep our customer's equipment operating efficiently. He also provides assistance in leading new construction projects.
Jeff earned a business degree from the University of St. Thomas. While working outside the family business, Jeff gained valuable experience in customer service, business management, and marketing. He uses his knowledge in these areas to lead the Sales efforts and manage the Office and Field Operations for AQS, ensuring that our customers and their needs are our #1 focus.
AQS can work in the entire Twin Cities metropolitan area, including Minneapolis and St. Paul where we have all the necessary licenses, insurance and credentials.
Why Use Companies with NATE Certification?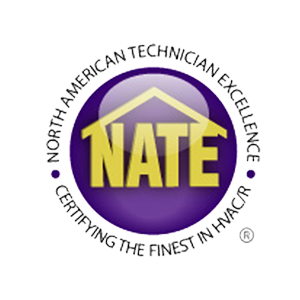 NATE (North American Technical Excellence) is the leading certification program for HVAC technicians and provides the only testing that is recognized and supported by the entire HVAC industry.
87% of consumers demand technician excellence. NATE-certified technicians deliver. The certification is voluntary, and to date there are only about 23,000 NATE-certified technicians in the entire United States. NATE tests are rigorous tests that relate to a technician's applied knowledge in Service and Installation. Technicians must pass both a CORE program and one of two SPECIALTIES. Certification by NATE means customer assurance because it means getting the best installation and service the HVAC industry has to offer. Today more than ever, your HVAC technician needs extensive knowledge and a wide skill-base to service your needs in our computerized world. Give yourself peace of mind and call AQS for all your HVAC needs at (952) 928-3838